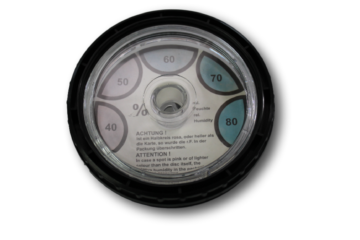 KINDHIC Moisture control window

Use
The moisture-control window KINDHIC was developed to monitor the moisture condition
inside packaging.
The measured humidity is displayed by discolouring the measuring points on the indicator card. KINDHIC.
Special

For application, the control window is built into the flexible barrier film of the packaging.
In the scope of supply is the Moisture-control window KINDHIC incl. indicator card, as well as sealing ring. A mounting key can be supplied on request.
The control window KINDHIC is available in 2 different versions:
3 display points: 30 / 40 / 50 % r.h.
5 display points: 40 / 50 / 60 / 70 / 80 % r.f.